Beauty and the Bleats is the Ninth Episode in the Second season of Sheep in the big City.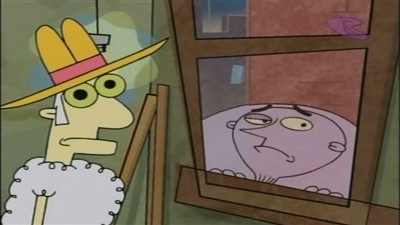 Once again Sheep is being chased by Lady Richington, this is the final straw that has bother Lady Richington.  Lady Richington states that everyday its the same thing, see sheep, chase sheep, hit sheep.   Once seeing a Upscale Luxury Condo that was 100% sheep proof she decides to move in due to the fact her Mansion is not Sheep proof.  
Sheep tries to get in with many disquises but, they do not fool the sheep detectors that are protected by massive security guards.
Sheep then releases a genie from a lamp that grants three wishes, and one of his three is to be half human so, that he can get into the Sheepless Arms in order to be with Swanky
Once able to get past the Sheep detectors, Sheep finds Swanky at a Classy I hate Sheep party; to his dismay Swanky does not recognize him but, catches the attention of Lady Richington whom finds him to be highly attractive. 
Lady Richington gives chase to Sheep throughout the episode, whenever sheep sees the genie that granted his three prior wishes for help, the genie does not understand what sheep is trying to tell him.
Sheep takes the torch from the city's statue in order to capture the genie in another lamp and release him again.  One of sheep's wish is to turn Lady Richington into sheep in which the Genie does and, Lady Richington beats herself with her stainless steel wig. 
The fountain at the Sheepless Arm was flowing with money instead of water
This is one of two lavishing homes that are owned by Lady Richington
This is one episode that General Specific was not chasing sheep nor plotting anything towards capturing him
General Specific release a question Genie whom will only answer three questions but, General Specific uses all three of his questions by the Genie. 
Community content is available under
CC-BY-SA
unless otherwise noted.