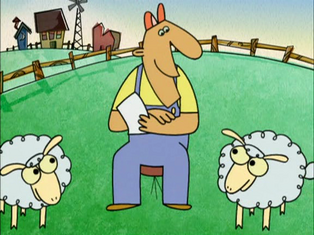 Farmer John is Sheep's original owner. Like General Specific, he is also trying to catch Sheep but in a more mild mannered way.
Appearence
Edit
Farmer John wears a red hat along with a yellow shirt and blue overals. He has brown shoes also. He has a big nose and a square face and green eyes.
Relationship with Sheep
Edit
It seem Sheep and Farmer John both had a great relationship together prior to General Specific needing sheep in particular to use for, his Sheep power ray gun. Farmer John refuse to give up sheep unless he knew what General Specific was going to do with Sheep.
Relationships with other Sheep
Edit
Farmer John seems to care for all of his sheep despite the fact he walks all over them, he has Sheep empowerment sessions where he helps them embrace their leadership skills and other important aspects.
When trying to help Sheep run for Mayor for the big city, he told the other Sheep to be proud of who they were and to remember that they were children of Democracy.
His real name is Farmer John. Farmer is his first name while John is his middle
His first name was Far by his father and Mer by his mother making his first name Farmer
He has no job discription
His nick name for sheep is sheepie
He apparently comes from a long line of Farmers due to the fact in Baah-dern Times his Grandfather was a Farmer
Farmer John's Grandfather bares the same appearance except he wore a straw hat and had a beard. 
Community content is available under
CC-BY-SA
unless otherwise noted.