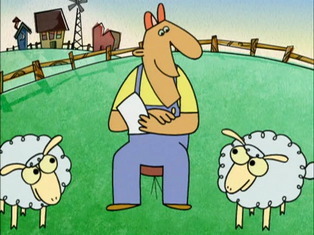 Farmer John is Sheep's original owner. Like General Specific, he is also on a mission trying to try and catch Sheep. However, instead of utilizing Sheep's power to activate a ray gun and achieve a degree of world domination,, Farmer John aspires to catch sheep for "emotional reasons" (as expressed in the pilot: "In the Baah-ginning"). He frequently comes off as overbearing and is often shown stalking and/ or pestering Sheep in the hope he comes back to the farm.
Appearance
[
]
Farmer John has tan skin and wears a red cap. He dons a yellow shirt, blue overalls, and brown shoes to match. He has a bulbous nose, square seafoam eyes.
Relationship with Sheep
[
]
Prior to his negative encounter with General Specific, Farmer John seemed rather calm and emotionally content (albeit a bit ditzy). Farmer John expresses a bias for Sheep, deeming him special product of his name. When Sheep fled the farm in refuge, Farmer John broke down. Either a product of intentional characterization or flanderization, Farmer John becomes notably emotionally unstable. He becomes hyperfixated on the reacquiring of Sheep, sometimes via perturbing means (I.e. stalking, guilt tripping, etc.). Occasionally, he and Sheep will show an evident father-son dynamic, albeit an overbearing one. Farmer John has been shown to summon godly strength in Sheep's presence.
Trivia
[
]
In a segment dubbed "How did they get their names?", it is revealed that Farmer John's legal name is Far Mer John. "Far" because his parents wanted him to go far. "Mer" after his aunt Meredith. And "John" for redundant familial reasons.
Farmer John consistently shows a fondness for luxury items and the concept of notoriety, getting easily sucked into fame in "A Star is Shorn" and frequently expressing contempt for his small role in the show as a whole.
Gallery
[
]